Expansion Beam
---
Expansion beam - substitute for traditional resin beams
Application:
Mainly used in diamond wire cutting. The polymer material is a mesh structure, which does not adhere to the diamond wire in the use process, so as to ensure the cutting capacity of the wire to the maximum extent, reduce the consumption of single cutting steel wire and reduce the cutting time. Products do not contain any mineral filler, compatible with water-based cutting fluid, reduce pollution to wire guides and the wire saw.
Characteristics:
1) The conductivity is low, so it is not easy to generate bubbles and static electricity during cutting, which is conducive to recovery and silicon material recovery;
2) The hardness is moderate, the wear of wire is small, the consumption of wire is reduced while the high hardness of resin plate increases the wear of wire.
3) Light material, easy to handle and use
4) It can obviously shorten cutting time, improve working efficiency and reduce wire consumption.
5) The heat resistance force is about 80℃, and the cutting temperature is only 20-22 ℃, so it can meet the use requirements. Because of the low heat resistance, it is easy to soften and degumme when degumming. Reduce the risk of chip edge cracking and microcracking.
6) The efficiency is improved obviously, which can save labor, water and electricity cost.
Product technical index
| | | |
| --- | --- | --- |
| S.N. | Description | Technical parameters |
| 1 | Apperance | No crack, no stain, no pore defect>3mm |
| 2 | Specification | L*W*T (cam be customized) |
| 3 | Length | ±1mm (cam be customized) |
| 4 | Width | ±0.5mm |
| 5 | Thickness | ±0.5mm |
| 6 | Hardness | ≥65 (Shore D) |
| 7 | Roughness | 2-10um |
| 8 | Warpage | ≤0.5mm |
| 9 | Water absorption | ≤0.5% |
| 10 | Heat resistance | <100℃ |
| 11 | Tensile strength | ≥80MPa |
| 12 | Acid and alkali resistance | No reaction |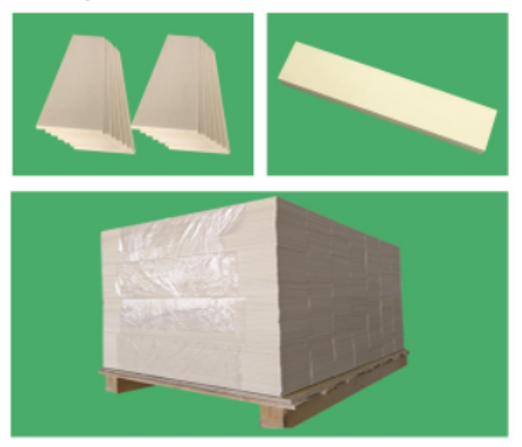 Hollow plastic plate
Strong toughness, excellent flatness, deformation-resistant;
Easy to cut, no sticking to wire, high temperature resistant;
Environmentally friendly: the plastic plate is recycled by our company, without solid waste;
Improve wafer yield;
Through the process verification, the cutting time of mono/poly crystal ingot is about 10 minutes and the wire consumption is about 10-20%